90 Day SEO Coaching
Let's create a sustainable client attracting
system using your site's SEO.
Your site traffic is more barren than a lost treasure island.
Your kid's blog is getting more traffic than yours is.
You've posted a few things but it hasn't generated any new traffic. And you are starting loose hope (as well as get extremely stressed and overwhelmed).
Do you frequently ask yourself:
"What are you doing wrong?"
Whether you are just opening your business or have an established practice of many years, SEO baffles and amazes you at the same time.
There are so many client opportunities that you have no idea how to tap into.
You have extensive healing knowledge that the worlds needs to know about. But how will you even attract new clients that will pay you if no one knows you exist.
Welcome to the 90-day SEO Coaching Experience
THIS IS A COACHING EXPERIENCE THAT WILL TRANSFORM YOUR SITE INTO A CLIENT ATTRACTION MAGNET.
AT THE SAME TIME, YOU WILL LEARN THE BASIC SEO FOR YOURSELF AND YOUR TEAM AS YOU APPLY IT ALL TO YOUR SITE AND BUSINESS.


Limited spots available.
Service starts at $3000 per month.
Working together will allow you to bring more quality traffic and leads to your site consistently over time, have an actual plan for your content that keeps you consistent, using tested White Hat SEO, and train you and your team to understand the basics and start executing consistently over time.
Are you ready to experience this in your business?
HOW YOU'RE FEELING LATELY
You are constantly scrambling with your content and post sporadically because you "feel like it".
Even though you've posted several pieces of content you aren't seeing any results in your traffic

You feel demotivated, confused, and burnt out when it comes to attracting clients online
HOW THIS PROGRAM WILL HELP
You have consistent leads coming to your site and are signing on new clients
You are taking clear and consistent action when it comes to your blog and site content

You are not wasting time, and if fact have more time because you are following a specific content strategy

When you go to bed, you have peace of mind that your marketing is stable and sustainable well into the future

You have extra energy to focus on your healing skills and methodologies
"I came away with so much more clarity around my offerings and my entire content creation process was streamlined. Cinthia is also full of ideas and resources - my toolkit expanded significantly. I'm soon to launch my first masterclass complete with a 75-page handbook and 7 video workshops as a result of Cinthia saying "yes, you can!"
STEFANIE KLEINBURD - stefaniekleinburd.com
Limited spots are available.
Here's what's included:
Monthly SEO strategic plan for 3 months that will attract new clients to your site through your content and sustainable marketing plan that feels amazing!

Clear guidance and coaching on how to create/refurbish content that is aligned with your business goals and interests you target audience.

Keyword Research and Implementation taken care for you so you don't need to spend time in Yoast or the backend of Squarespace.

Customized backlinking plan with ongoing accountability to make sure you are generate more traffic to your site through affiliates, and collaborations.

Technical SEO audit and access to a library of SEO training videos for you and your team to learn from at your own pace.



Your SEO coach and strategic advisor when it comes to your digital marketing.
I bring together the creative and technical sides of doing SEO is an easy and fun way for your Health and Wellness business.
Let's get a fresh perspective on your content and inspire your ideal audience to reach out and hire you.

With my deep understanding of the Health and Wellness industry, I will be your guide to make sure all parts of your site and online presence are attracting clients who are already searching for you now!

"Cinthia is also a dream to work with, so kind, thoughtful and patient she makes understanding it all so easy. I would highly recommend working with her!"
KRISTA - hundredblog.com
This service is for you if:
YOU'RE AN AMBITIOUS HEALTH AND WELLNESS PRACTITIONER WHO HAS BEEN AROUND THE BUSINESS BLOCK, AND IS READY TO MOVE PAST THE DIY MARKETING TECHNIQUES AND WANTS TO TAKE IT UP A NOTCH.
YOU HAVE WRITTEN SOME CONTENT BUT ARE FEELING LOST AND UNSURE ON WHAT YOUR AUDIENCE IS SEARCHING (AND WHAT WILL GET THEM TO CONSIDER YOUR SERVICES).
YOU'RE TIRED OF YOUR WEBSITE JUST LOOKING PRETTY; YOU WANT IT TO LOOK GREAT, AND CONVERT MORE VISITORS TO CLIENTS.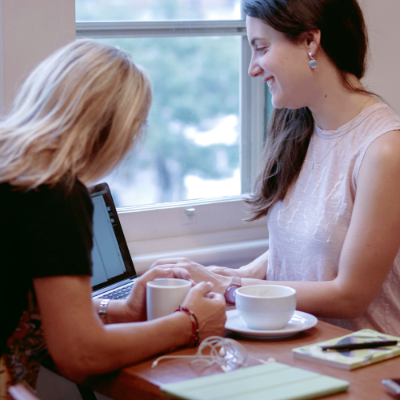 The 90-Day Coaching Process:
Once we confirm our work together, I will send you a quick survey to get to know your business better and we will book our first calls together.

After this, we will dive into your ideal client and how that translates to online search.

Next, I will present a content strategy, fit for your business and services. This might be one topic of several, depending on your current traffic and keywords.

We decide on a topic to focus on and I give you the content structure to work from. I give you the keywords and you start creating the content!

Once our content is done, I will walk you through the outreach plan to share your awesome content with the world. As you reach out, I will support you with email responses and how to get maximum shares and backlinks.
Start attracting more paying clients to
your site, get your content plan in order,
and start collaborating with other businesses and
site to get some backlinks!
All 90-Day SEO Journeys start at $3000. If you would like support with support with copywriting, please let me know!